The Town of Ballston Community Library provides programming for all ages. All programs are free of charge. Certain programs require registration and may have age or space requirements. Registered participants must meet the age requirements for the program but siblings are always welcome.
Registering For Programs: To register for a program please stop at the Library, sign up online or call 399-8174 ext. 3. For our Preschool Programs you are registering for the entire session. Attendance each week is appreciated but not required.
Weather Delays: If the weather is bad, calling before you visit the Library is a good idea. When Burnt Hills-Ballston Lake cancels classes we cancel our programs. Please call ahead or check our website.
Food Allergy Alert (FAA): Please be aware a number of our programs serve refreshments or involve food. Contact Youth Services with questions before registering or attending.
Upcoming Programs 
Spring Session: February 26 – May 25
Baby Bookworms
Tuesdays or Fridays at 9:30 AM
We will share simple stories, songs and finger plays as well as activities using music and movement. For children birth to 23 months with a caregiver; sibling are welcome. *Registration required.
Family Story Time
Mondays at 4:00 PM or Fridays at 10:30 AM
Join us while we read books, sing, do finger plays and movement activities to promote early literacy. This program is designed for two and three-year-olds accompanied by a caregiver. This is a drop in program and siblings are welcome.
Preschool Story Time
Wednesdays or Thursdays at 9:30 AM
Share early literacy skills with your child at this 30 minute program which includes a craft. For children ages 3, 4, or 5 who are accompanied by a caregiver. *Registration is required and siblings are welcome.
Music Medley
Tuesdays at 10:30 AM
Join us for a family style sing along led by our favorite musician Miss Terri! This 30 minute sing along is for preschoolers of all ages. This is a drop in program and siblings, parents, grandparents and friends are welcome!
Mondays at 9:30 AM (4/9 – 4/30)
This class is a 45 minute yoga class where you are welcome to bring your 1-5 year old. No yoga experience is necessary, we will warm up the body and move through a vinyasa flow style class. Child participation is at their own interest level, or they can socialize and play with new friends. It is a true free for all.
Song and story bring yoga postures to life to engage your child to move their body and stimulate the imagination.
~ This a friendly and open mommy/baby environment. Changing and nursing welcome at anytime.
~Siblings welcome.
~Please bring your yoga mat.
~Wear comfortable clothing,
*Registration required, please note you are registering for a 4 week session. Attendance each week is encouraged but not required.
Contact Us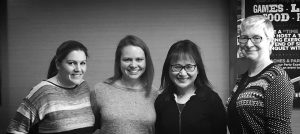 Phone: 518-399-8174 ext. 3
Fax: 518-399-1687
Visit us on facebook!
Email:
Miss Rebecca  rdarling@sals.edu
Mrs. Baumback mbaumback@sals.edu
Miss Jenn  jlambiase@sals.edu
Miss Jane rchen@sals.edu