Welcome to the Town of Ballston Community Library Online!
We are located at 2 Lawmar Lane, Burnt Hills, NY 12027
We are very proud to have been selected for a Library Program of the Year Award by the Southern Adirondack Library System for our Books Delivery Program.
Upcoming highlights include: 
Schizophrenia in the Army
Wednesday, May 22, 7-8 PM
Author Greg Hitchcock will discuss his life in the military, the onset of schizophrenia, and life afterward as a professional writer and journalist.
Birding Your Backyard:
Attracting Birds Close to Home
Thursday, May 23 at 7 PM in the library community room

In this slide-illustrated program, Denise Hackert-Stoner and Scott Stoner  cover the basics of attracting birds with food, water, and shelter.  They cover types of feeders and feed, plantings and cover for birds, and common questions such as squirrels and hawks.  Photographs show many of the common and less common backyard visitors to the northeast.  Enjoy the show, and bring your questions!
Free, no registration required.Book Club
2nd Monday of each month at 7PM, in the library community room. Reading
 Not Me, by Michael Lavigne in June
.
Please see Judy Kaplan for more information. 
Philosophy in our Every Day Lives
 - Lecture/Discussion for adults
Join retired philosophy professor Roberta Boss at the Town of Ballston Community Library for informal conversations about philosophy in our every day lives. Prerequisite: a curious mind.
The sessions will focus on everyday questions that we face now, and "picking the brains" of ancient philosophers (and some classic novelists) to see what they might have said if they lived today.
We'll meet from 12:30-2:30pm on Fridays, May 24 & 31, June 6 & 20 in the library community room. Please register at the library or by calling 399-8174, ext 2.
Week One: May 24 – The Pursuit of Happiness
Week Two: May 31 – Big Government
Week Three: June 6 – Lifestyles of the Rich & Famous
Week Four: June 20 – Body & Soul
Savvy Social Security Planning: 
What Baby Boomers Need to Know
Tuesday, May 28, 6-8 PM
Free program presented by Madison Wealth Managers in the library community room. Learn the "ins and outs" to help maximize your Social Security benefits.
Please call Jackie at 518-348-7770, ext. 221 to reserve a seat.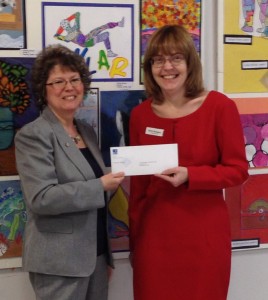 Many thanks to the Employees of the Ballston Spa National Bank for selecting the Town of Ballston Community Library for a donation.
The next meeting of the Friends of the Library is Tuesday, June 4 at 9:00 AM in the library community room.  New members are needed and welcome!
There will be a meeting of the library board of trustees on Monday, May 13, 2013 at 7PM in the library to approve staffing changes. The May meeting of the Trustees of the Town of Ballston Community Library will be held at 7 PM on Wednesday, May 29, 2013 in the library community room. These meetings are open to the public and we'd love to see you there!
The Town of Ballston Community Library will have two openings for library trustees in July 2013. Trustees are appointed by the Town of Ballston Board for a 5 year term. Trustees must be residents of the Town of Ballston residing outside the Ballston Spa School District. Please contact Library Director Karen DeAngelo for more information and an application form.
If you are an artist or photographer who would like to display your work in the library community room in 2013, please call 399-8174 ext 4 or ask for Judy at the library.  
Computer Classes – Spring Schedule
Please check the Computer Page for Details
 Programs for Children:
2013-2016 Library Long Range Plan
Emergency Closings are  reported on the Times Union Website as Town of Ballston Community Library, here, and on our Facebook page. Please check here or call us at 399-8174 ext. 2 before coming out if the weather is bad.