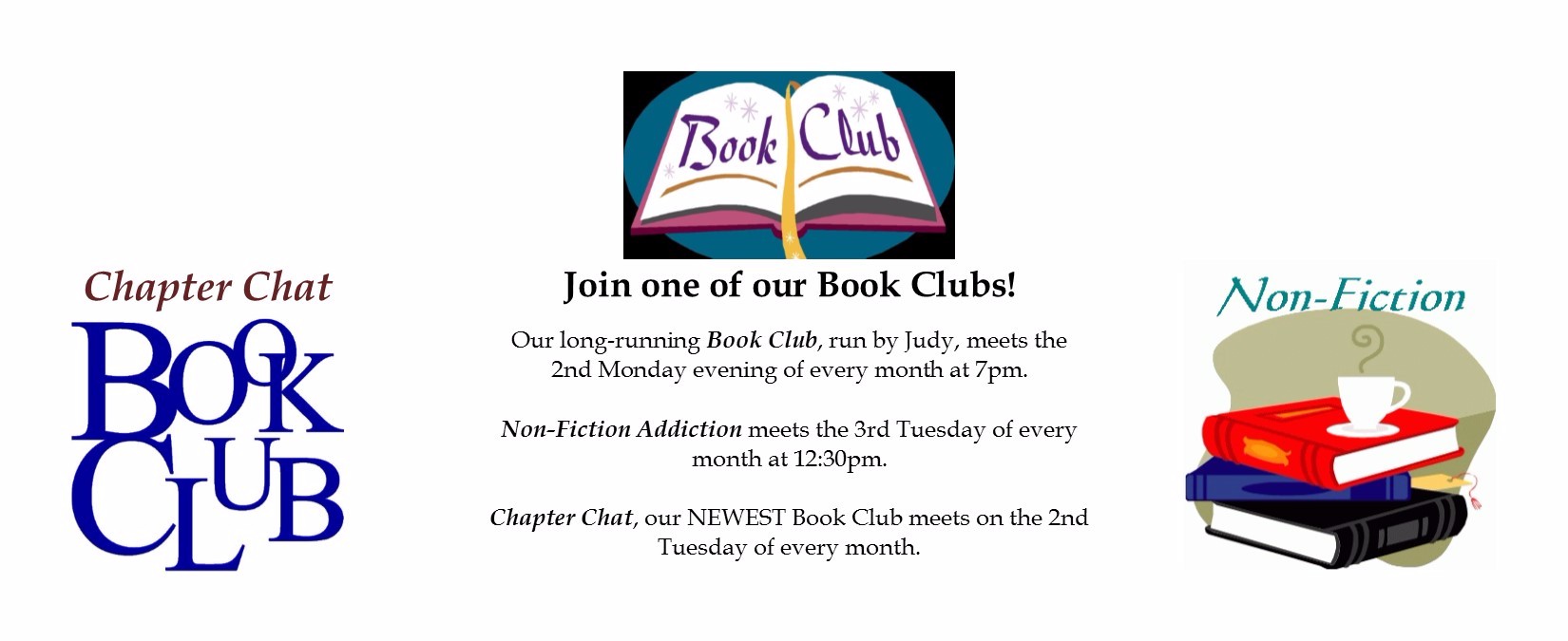 For more information about any of our Book Clubs, please as a staff member.  Any staff member will be more than happy to put a Book Club title on request for you!  All of the past Book Club selections for each of our Adult Book Clubs can be found on a small bookcase near the elevator.
Judy's Book Club is the Library's longest running Book Club.  This Book Club meets the 2nd Monday of each month, unless there is a holiday.  The list of books they have read can be found here.
– Some recent titles for Judy's Book Club are:  September – Necessary Lies by Diane Chamberlain, October – The Last Midwife by Sandra Dallas, November – Under the Influence by Joyce Maynard, and December – Following Atticus by Tom Ryan.
-Some upcoming titles are: January – Miller's Valley by Anna Quindlen, February – The Nightingale by Kristen Hannah, March – Fates and Traitors by Jennifer Chiaverini.
Non-Fiction Addiction is our Book Club devoted entirely to non-fiction!  This daytime Book Club meets the 3rd Tuesday of every month at 12:30pm.  In the past they have read book such as The Professor and the Madman by Simon Winchester, The Wright Brothers by David McCullough, Wild by Cheryl Strayed, A Walk in the Woods by Bill Bryson, Lost Girls by Robert Kolker, and Crack at the Edge of the World by Simon Winchester.
– Some upcoming titles for Non-Fiction Addiction are : September – Founding Mothers by Cokie Roberts, October – Longitude by Dana Sobel, A Distant Mirror: The Calamitous 14th Century by Barbara Tuchman, December – Behind the Beautiful Forever: Life, Death, and Hope in a Mumbai Undercity by Katherine Boo, January 2017 – The Life-Changing Magic of Tidying Up: The Japanese Art of Decluttering and Organizing by Marie Kondo, and February 2017 – The Dressmaker of Khair Khana: Five Sisters, One Remarkable Family, and the Woman Who Risked Everything to Keep Them Safe by Gayle Tzemach Lemmon, March 2017 – Grunt:The Curious Science of Humans at War by Mary Roach.
Chapter Chat is our newest Book Club, started March 2016.  Chapter Chat is designed to be a lighter, more relaxed Book Club.  We will read books that have some humorous, fun content, with some topics worth discussing.  So far, some examples of what we've read are: Bossypants by Tina Fey, The Next Best Thing by Jennifer Weiner, Something Borrowed by Emily Giffin, Landline by Rainbow Rowell, and Where'd You Go Bernadette by Maria Semple, The Vacationers by Emma Straub, The Assistants by Camille Perri, One Plus One by Jojo Moyes, The Total Package by Stephanie Evanovich.
– Some upcoming titles for Chapter Chat are: January 2017 – A Window Opens by Elisabeth Egan, February 2017 – The Readers of Broken Wheel Recommend by Katarina Bivald, March – The Singles Game by Lauren Weisberger.